Best Medical Terminology Books – Overview
The language used in the medical industry is unique and has significant Greco-Latin influence. You can find thousands of strange-sounding terms in medical books.
For a successful career as a medical practitioner, it is vital that you know the technical, medical terms and how to use them in your healthcare profession.
It may not seem easy and often feels like learning a strange new language altogether. However, there are learning tricks and tools that can make it easier.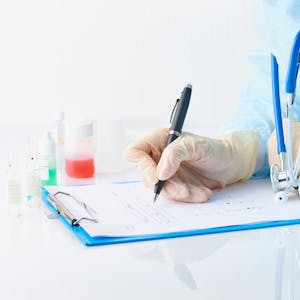 Today, you can find numerous medical terminology books available in the market. These books help you to learn everything you need to know about medical and health science.
In this article, we've picked the best medical terminology books for 2023.
Top 5 Medical Terminology Books for 2023
Let's take a quick look at the select list of the best medical terminology books for 2023:
1 – Quick Medical Terminology: A Self-Teaching Guide
Quick Medical Terminology has over 250 commonly used and rare medical terms. It also has updated examples with measurement units and methodologies.
The unique thing about this book is that it contains review exercises and self-tests. This helps in constant self-evaluation.
It details basic word roots and common suffixes before moving to basic anatomy terms and later explaining everything that goes on in the internal systems of a body.
Besides this, the book also contains signs and symptoms, diagnoses, treatments, medical statistics and more.
Pros
The medical terms are broken down into their root words, central vowels and endings.
This way, the reader is able to comprehend the word structure in a better way, along with its meaning and proper pronunciation.
Every term is accompanied by a detailed explanation and real-life clinical examples.
The book focuses on repetition significantly, which is a huge advantage for medical students.
All in all, this medical terminology book is a must-have for first and even second-year medical students.
2 – Medical Terminology for Health Professions
The Medical Terminology for Health Professions makes it simpler to understand medical jargon. It helps by focusing on common suffixes, prefixes and root words.
The book can form a great foundation for learning medical terms that are frequently seen by students in their medical books.
Using this, medical students can easily learn other terms that they may not come across in their books.
The book is organized into 15 chapters. It begins with an introduction to medical terminology before moving on to the fundamental human body system, procedures and disorders.
The book ends with chapters detailing diagnostic and treatment procedure terminology.
This book also contains a detailed depiction of medical terminology using attention-grabbing photos and images.
Pros
The book is excellent for medical students as it breaks down individual medical terms into their root and suffix which makes it easier to learn and remember.
Several practice tests are quite challenging and stimulating. Besides this, the book also comes with a learning CD as accompaniment.
Overall, this book is an exceptional choice for visual learners because it contains numerous photos and color-coded terms, flashcards, and self-test exercises.
3 – Medical Terminology: A Living Language
Medical Terminology: A Living Language is focused on a stepwise approach to learning terms for the anatomy and physiology of the human body.
The book contains 14 chapters for each body system. The author has extensively covered the pathology, diagnostic terms, pharmacological terms, and treatment procedure terminology in the chapters.
The book is focused on comprehension rather than memorizing and uses real-world contexts, exercises, and tips for better comprehension.
With an added fee, you can also earn access to MyMedicalTerminologyLab, online tutorials, and an assessment program.
Pros
This book details the body systems in a well-organized way that is easy to comprehend and remember. The content is remarkably descriptive and contains numerous diagrams, images, and examples.
Overall, this book is ideal for understanding basic and advanced medical terminology with the added advantage of the online learning program.
4 – Medical Terminology for Dummies
The Medical Terminology for Dummies book contains more than 300 pages explaining hundreds of medical terms.
The book offers fine details on the formation of medical terms, their usage, proper pronunciation and recognition.
You can also learn to create and break words into root words, prefixes and suffixes.
The book also contains icons to mark important tips and tricks that help learn medical terms and avoid common mistakes.
The book excellently categorizes medical terms according to the anatomy and physiology of the disease, mnemonics and body systems.
Pros
This book is an excellent example of a beginner's guide to medical terminology. It has an easy-to-read flow, which relieves the stress of learning difficult medical terms.
5 – Medical Terminology (by David Anderson)
Medical Terminology by David Anderson contains over 200 pages filled with medical terms for better understanding, pronunciation and memorizing.
This book also contains tips and tricks that help you to master the content more efficiently.
The book breaks down medical terms into their root words, suffixes and prefixes, similar to other medical terminology books.
The book also contains additional exercises at the end of chapters for efficient self-evaluation.
Pros
This book is written in an easy-to-understand format with differently styled questions. The author has provided words and stress areas that can often confuse beginners otherwise.
Besides this, the book also contains additional learning resources, such as practice exercises and flashcards.
Overall, Medical Terminology by David Anderson is an excellent and efficient book for medical students to learn medical terms and jargon.
Rice University also offers a highly rated online medical terminology course
Conclusion
These are the best medical terminology books to buy in 2023. These books have been selected based on their ease of learning, additional learning resources and efficiency of instructions.
These books have helped thousands of aspiring medical students to become efficient and expert medical practitioners.
See Also
Books for Primary Care Physicians
Integrative Medicine Training for Physicians
Anti Aging Training for Physicians
Best Medical Schools in the US
I am a dedicated healthcare researcher and an enthusiast specializing in medical grants, medical education and research. Through my articles, I aim to empower healthcare professionals and researchers with valuable insights and resources to navigate these critical aspects effectively.