EMT Certification – Overview
Emergency medical technicians (EMTs) are clinicians trained to respond quickly to medical emergencies.
These technicians are employed by the government, hospitals, ambulance services, fire departments and police forces. Some EMTs can also be unpaid volunteers.
EMTs are the first responders who are called to a scene of an emergency. This emergency can be a car accident, fire, dog bite or someone critically ill.
EMTs offer support to the injured and ill and also administer medications, besides providing emergency medical care procedures.
There are different levels of EMT and each requires passing an exam to obtain a certification.
Although every level of certification allows EMTs to provide medical support and perform emergency resuscitation procedures, the exams for each are very similar. An EMT certification exam usually includes a cognitive exam and a psycho-motor exam.
The cognitive exam provides you with knowledge of trauma, cardiology, resuscitation, ventilation, respiration, airways, EMS operations, medical, obstetrics, and gynecology.
The psycho-motor exam provides you with a hands-on practical exam to demonstrate your emergency medical skills.
4 Steps to Earn EMT Certification
A high school diploma or GED credential is a necessary basic requirement to become an EMT. You must also earn CPR certification before enrolling in a post-secondary emergency medical technology program.
These programs can last for 1 to 2 years but do not offer any degree or diploma.
Here is a step-wise process to earn EMT certification in the US: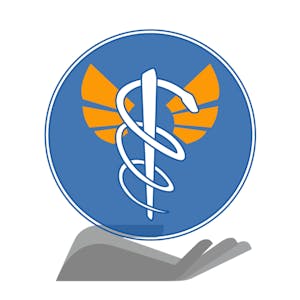 Become an EMT
as of March 23, 2023 5:22 am
Health care is an exciting and ever growing profession that can take you many different directions. You can apply the fundamentals you learn here about emergent patient care, stabilization, and disease processes toward becoming an EMT or further health care pursuits. In this specialization you...
Step 1 – Complete EMT Basic Training
As an aspiring EMT, you should first earn a CPR certification. You can seek CPR certification from several organizations, such as the American Heart Association or the American Red Cross.
You will also need to complete a post-secondary emergency medical technology program.
You can pursue this program at a university, technical college or community college. This certification program usually takes 1 to 2 years to complete. This certification teaches you to evaluate, care for, and transport patients safely.
Step 2 – Pass National/State Exam for Certification
To work as an EMT, you will need to earn state certification. Several states require state-specific certification while most states accept certification from the NREMT exam.
To take this exam, you should first complete a state-approved training course within the past 2 years of applying.
The NREMT exam consists of a psycho-motor portion and a cognitive test. Candidates get 6 attempts to pass the cognitive portion of the exam.
In case you fail to pass the exam, you can reapply to take the cognitive exam once more after 15 days of receiving your exam results.
You can take the psycho-motor portion of the exam using a state-approved training site or a state emergency service.
Step 3 – Complete Advanced EMT Training (optional)
This is optional, but many EMTs prefer completing additional training even after being certified. These advanced courses prepare EMTs for the Advanced EMT exam conducted under the NREMT.
You will need to spend around 150 to 200 hours in fieldwork. Many programs require internship clinical rotations in an emergency services agency or a medical emergency room.
Step 4 – Complete a 2-year Degree Program (optional)
Once you have obtained additional EMT training, you can prepare to enroll in a 2-year degree program in emergency care training.
These are usually offered by universities, technical institutes and community colleges through an associate's degree.
These associate degree programs usually cover topics such as advanced life-support techniques, anatomy, physiology, etc.
This step is optional if you want to become a certified EMT but can help you earn more and ensures faster promotion at your place of employment.
What is the EMT Certification Course from Coursera?
Coursera offers exclusive EMT training and certification programs for aspiring emergency medical technicians in the US.
Course 1 teaches you to assess an emergency scene and make preparations to provide care. This course trains you to understand the structure of patient assessment, the history of emergency medical services and the personal requirements you will need to become a certified EMT.
Course 2 will teach you about airways, breathing, circulation, medications and medication administration that are allowed for EMTs.
This course also teaches you to identify signs and symptoms of stroke, diabetes, cardiac arrest, etc.
Course 3 from Coursera's EMT certification program trains you in the skills related to toxicology, cardio-pulmonary resuscitation, wilderness emergency medicine, high-performance CPR, etc. on the other hand, Course 4 from Coursera offers skills essential for trauma emergencies while Course 5 teaches about pediatrics, infants and pregnancy.
What are the salary and career outlook for EMTs?
According to reports by the US Bureau of Labor Statistics (BLS), EMTs in the US earn around US$ 36,650 as the median annual salary. The highest-earning 10% of EMTs can earn more than US$ 62,150 per year.
As far as career growth prospects are concerned, reports from BLS suggest that there will be a 6% boost in demand for trained and certified EMTs in the US by 2029.
This is faster growth in demand as compared to all other occupations.
Conclusion
Earning an EMT certificate or diploma is only the starting point of education for aspiring medical students.
If you want to develop your EMT knowledge and skills even further, you can choose to obtain an associate's or bachelor's degree.
Reference links
https://www.mometrix.com/blog/emt-certification/
https://www.unitekemt.com/blog/
See Also
How to Become an Emergency Physician
American Heart Association AED Grants